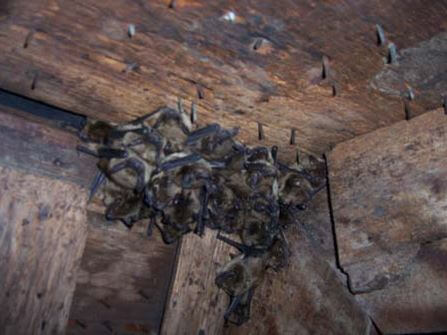 Bat, Raccoon, Squirrel, & Wildlife Removal in Milton, MA
The Baystate Wildlife team is proud to serve the town of Milton, MA, with our humane wildlife removal services. Milton, MA of Norfolk County has a population of around 27,000. Milton is the birthplace of former United States President George H.W. Bush and is considered one of the most affluent suburbs of Boston. Milton borders Boston, Quincy, Randolph, and Canton. It is one of the best places to live in the United States, ranked by Money Magazine. The town has beautiful bike trails and abundant nature. Milton residents are also often bugged by wild animals like bats, raccoons, skunks, squirrels, and birds that often found home in their houses.
Animal Removal Services in Milton, MA
Bat Removal | Squirrel Removal | Skunk Removal
Bat Removal Services in Milton, MA
Bats can be a nuisance for homeowners in Milton. They often make their way into homes, sheds, and garages when they're pushed out of their natural habitats. Bats don't live in caves as most think. They often live in manmade shelters. These critters can carry disease and cause damage to your home. 
Our team at Baystate Wildlife removes bats safely to reduce harm to your home and the animal. Contact our team in Milton to get a quote today. 
Skunk Removal Services in Milton, MA
The Baystate Wildlife team can also help if you've got skunks on your premises. Dogs and other pets can be dangerous to skunks and get sprayed, which no one wants. The skills of our team make it so once skunks are removed from your property, they can't return. Skunks have become more prevalent in residential areas like Milton, with more development. Contact our team to get an estimate on skunk removal in Milton, MA. 
Wildlife Animal Removal in Milton, MA
Not to worry residents and business owners of Milton, MA, Baystate Wildlife specializes in wildlife removal and exclusion from your home. Not only do we want to get rid of current creatures and animals that may be invading your home or business but all keep them out for good. After the removal of the animal, we will even proof it for you so that other animals will not be able to enter using the same entry point. It is important that we rid of bats, raccoons, and birds from your home immediately, as they carry the life threatening rabies virus.
Contact Baystate Wildlife in Milton, MA For Animal Removal
We have been in business for over a decade now, and we have perfected the art of humanely removing wild animals from homes, attics, porches, and decks. If you are interested in our services, feel free to give us a call at 781-830-6080.